The much-loved satirist John Clarke passed away last week, aged 68. Journalist Tony Wright called Clarke "the most acute humourist of his generation, certainly in Australia and his native New Zealand."
Wright also revealed that away from the spotlight, "Clarke took shelter in the quiet": he was "an uncommonly talented photographer of wildlife", who was "forever taking himself out of contact".
Even if he only resurfaced once a week for a single segment of biting satire, Clarke could do more in two minutes than most talking heads achieve in a year.
"Television news reporters are interchangeable," Clarke wrote, more than 20 years ago. "All channels have the same news. It is written in crayon and is broadcast in a cadence that eliminates the need for the Court System."
Clarke let us know which emperors were dressed in imaginary clothes. He called them on their nakedness and skewered those who cheered them on.
I shared a stage with Clarke in 2013. He was asked by Melbourne Library Service to nominate the five books he would want with him if stranded on a desert island; Clarke listed seventeen.
I was meant to chat with him, review each book and take questions from the floor, all within an hour. "Don't worry," he assured me. "My list is an ambit claim."
The fun bit, he said, would be "deciding between us on a final five." Deciding between us. It was my first introduction to Clarke's legendary generosity.
He approached the task like a football coach on the eve of team selection: "Heaney in. Mansfield out. Milligan in. Dickens out." And this went on for days.
We settled on eight books: Children's stories, Oscar Wilde; Puckoon, Spike Milligan; Persuasion, Jane Austen; The Third Policeman, Flann O'Brien; Opened Ground, Seamus Heaney; David Copperfield, Charles Dickens; Short pieces, Robert Benchley; and The Deptford Trilogy, Robertson Davies.
Milligan was an obvious choice. The Goon Show co-creator produced inventive and absurdist works that resonated with Clarke from an early age.
O'Brien, too, delighted Clarke. As a public servant in Ireland, in the mid-1900s, O'Brien often criticised the government (his employer) by writing letters to newspapers under a pseudonym.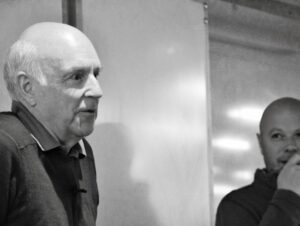 Then O'Brien would write again under a new name, criticising his earlier letter. Clarke loved that.
It was Seamus Heaney, however, for whom Clarke reserved his greatest reverence. Clarke quoted from memory verse after verse of the Irishman's poetry.
There was an easy, quiet power in the way he spoke, without altering for a moment his distinctive intonation. The audience leaned towards him.
After the event, he stayed for a chat with anyone who asked and directed his appearance fee to the Australian Literacy and Numeracy Foundation.
Later in the week, he posted me a parcel. It contained CD recordings of Heaney reciting his own poetry, and made specific reference to Heaney's 1995 Nobel Prize for Literature acceptance speech.
In essence, that speech is an essay on listening: how as a child in the 1940s, Heaney and his siblings crowded at night in their parent's farmstead, in an "intimate, physical, creaturely existence", conscious of sounds beyond the thatched walls, yet "proofed against the outside world."
It was, says Heaney, the first step on his long road to lyrical poetry: a voyage in search of the "persuasive voice behind all the other informing voices."
Ours is a culture beset by angry voices, drowning in punditry and hostage to the ceaseless loop of shallow spin that so often passes for news and insight.
Clarke saw through the bluster better than most – alert to the noise, yet proofed against it.
The rest of the time, it seems to me, he gave himself to the wisdom of poets, the joys of nature, the habit of art and the pleasures of friends and family.
He left us an extraordinary collection of literary and comic works, spun from the casual genius of his mischievous and supple mind.
He left us, too, the strength of his example and the clear, compelling sanity that it represents.
Photography: Shirley Bateman, 2013