Iflew from Manchester to Munich last week, a two-hour flight over England, the North Sea, the Netherlands and Germany. I booked myself a window seat; I always do.
I love the world from 30,000 feet: the strange and singular topography of an aerial perspective; the landscape unfurling below like a vast Picasso canvas.
I boarded my flight armed with a pile of English newspapers. The news they carried was awfully bleak: terrorism; racial discord; Brexit angst; a post-election shit-fight; and swathes of angry, bitter prose from columnists left and right.
England is a country in all sorts of pain. The whole nation seems bewildered, bruised and bereft. I'm yet to meet the person who sees a better future. To read about it is to feel depressed.
I was among the first to board the flight. I took my place in seat 4A, one of three seats in the row. A Chinese woman sat next to me.
Seat 4C – the aisle seat – remained unoccupied until the last passengers climbed aboard. One of them was a young girl with fair hair, who radiated warmth and energy. As she approached her seat, she smiled at me and nodded.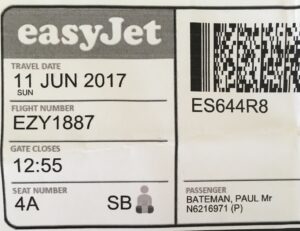 The gesture was so confident and direct that I assumed she had mistaken me for someone else.
She took her seat and smiled again. I smiled in return, but we never spoke. The woman between us fell asleep.
I turned back to the window as the plane rushed down the runway and hurled itself into the sky. We climbed above farms and fields, and crossed the sea to mainland Europe.
We were 15 minutes from our destination, when the girl in seat 4C leaned forward and caught my gaze. She was desperate to speak. So I said: "All good?"
She drew a sharp and sudden breath, then burst into a fabulous and frenetic tale. Her words took off like fireworks. Her accent was German, but I never caught her name.
She was returning to Bavaria after nine months of travel. When the wheels hit the tarmac, her voyage would be over. The thought of it overwhelmed her. She wanted someone – anyone – to register the moment with her.
Her travels had taken her to Indonesia, New Zealand, the USA and England. She was 19 years old. She had travelled alone.
Along the way, she had overcome every sort of fear and doubt. And now, with the finish line in sight, there were tears in her eyes.
She had arranged for a friend to collect her at Munich airport. Her parents were unaware that she was coming home. Her plan was to surprise them.
"And you?" she asked me. "What brings you to Germany?"
I told her that when I was 19, I met a German girl in Ireland – a fellow backpacker.
I told her that almost three decades later, that girl and I are still good friends – that from time to time, she visits my wife and me in Melbourne, or I visit her and her family at their home in Regensburg.
I told the young girl that I was travelling now to meet my friend once more.
I explained how we would walk along the Danube River or sit in the shade of a garden, swapping memories and telling tales, while sipping beer from tall, heavy glasses.
The young girl told me stories about the people she had met in the previous nine months. I told her she was lucky: that among those people, she might have met a friend for life.
I told her that so long as she has friends like that, the journey never ends: that it changes shape with time and age, but also grows deeper and more real.
The young girl leaned back in her seat. She fell silent and looked calm.
I felt a weight lift from my shoulders, as though the shadows cast by the English press had risen to the roof and dissolved in some new light.
Soon after that, the plane touched down and we went our separate ways: me to my friend and her family; the girl to her friend and the future.