In the days that followed Sisto's death, when I was still in shock and heavy with sorrow, I avoided every form of media and left my phone unanswered.
Pellegrini's Espresso Bar co-owner Sisto Malaspina, 74, was killed this month in Bourke Street, Melbourne, by 30-year-old Somali-born, Hassan Khalif Shire Ali.
This was either an act of terror, by a man of warped beliefs, or an act of the most destructive kind by a man of shattered mental health. Or was it both?
The event provoked in many people a swift, almighty anger – the type of anger that swells like a wave and crashes with alarming force, sweeping all before it.
I felt weak and diminished in the face of this response.
To the extent that I felt anger, frustration and despair, I internalised those feelings and they manifest as a melancholy that bordered on depression.
I felt as old and sad as Jeremiah in Rembrandt's 1630 painting, Jeremiah Lamenting the Destruction of Jerusalem.
I have always been drawn to that painting (above): to the gloom and loss it so painfully expresses.
A city is in flames. A mob is at the gate. An old man, who predicted as much, sits in the shadows, defeated and downcast, his weary head supported by his hand.
As a work of art, the painting stirs in me all manner of fears and a strange, uneasy feeling with echoes in the past.
I sense the dark, barbaric impulse that is passed in time, from age to age, as a stain on the inheritance of every human soul.
In the days that followed Sisto's death, messages found their way to me from friends with whom I worked as a waiter, many years ago, at a restaurant opposite Pellegrini's.
These were messages of shock and grief from people mourning Sisto: notes from former restaurant staff, who encountered Sisto at his brilliant best and took strength from his example.
My friends each saw the difference between 'servility' and 'service': how the former implies a weakened self; how the latter is a gift.
To serve is an assertive act. And Sisto was a 'servant' in the best sense of the word.
Sisto's son David Malaspina spoke at the State Funeral that honoured Sisto, earlier this month.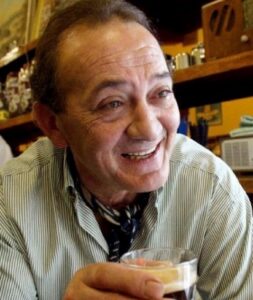 David said his father called Melbourne "the best city in the world".
"Our great country has been blessed with waves of migrants from all corners of the globe," he said.
"These people bring their culture and dreams with them in search of a better life. Melbourne is a melting pot of all these cultures, making Melbourne magical."
David said it was his father's "love of people" that made Sisto so successful.
In that moment, as a grieving son found the courage and composure to speak of tolerance and gratitude, I felt lifted from my lethargy – as though the spirit of his measured words had drawn back the curtains in a darkened room and filled the air with morning light.
Image insert: Sisto Malaspina, 29 June 1944 – 9 November 2018