When Adelie Gahan-Hannibal discovered that the Australian Ballet goes through almost 7,500 pairs of custom-made ballet shoes every year, the Melbourne-based fashion design student hatched "a summer project".
Drawn to issues of sector sustainability and seeking to "upcycle" discarded footwear, Adelie wrote to the Australian Ballet requesting any surplus shoes. To her delight, the Ballet wrote back, offering her 50 pairs at a total value of $6,000.
"There's a box here waiting for you," they replied. "You're more than welcome to collect it."
For all its poise and grace, ballet is brutal on footwear. Pointe work – in which a ballet dancer supports their entire body weight on the tips of their feet – is performed while wearing pointe shoes. Though structurally reinforced, these shoes take a beating and rarely last long.
The shoes in Adelie's box neither smelt too bad nor looked too rough. Adelie took the shoes from the box and spread them throughout her Fitzroy North studio. There they remained for quite some time, while Adelie considered her next creative steps.
Like a watchmaker who disassembles a clock to better comprehend and calibrate the clock's component parts, Adelie took a pair of ballet shoes and broke them into pieces.
She rearranged each element and made sketches of each fragment. She found that no two pairs of shoes were exactly the same. This offered her, she says, "a different experience every time."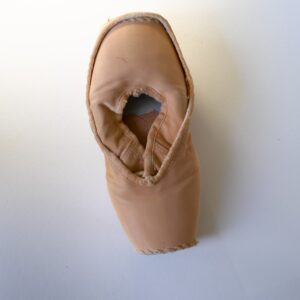 New ideas began to form and soon she found herself preoccupied by "endless possibilities."
Her aim is to repurpose the shoes into other garments, accessories and forms – into things like jewellery, jacket pockets, sleeves and bags – and perhaps compile an art show of new and novel objects.
Ultimately, she hopes to "start a conversation" about the sustainability of costume design and the environmental footprint of the design and fashion sectors.
"It's a big issue," she believes. "And whether you are in the industry or simply a consumer of everyday clothing, it's something we all need to think about and start making changes."
Follow Adelie, and her 'En Pointe' project, via Instagram @sweetdeisus
Images of Adelie's work by Mike Hannibal
This article was first published by Creative Victoria, 5 June 2020, at Creative Community