Tony Birch was 49 when he published Shadowboxing in 2006, a collection of 10 linked short stories about a boy growing up in the inner-Melbourne suburb of Fitzroy in the 1960s.
In one of the stories, the young boy's father teaches him to box. What starts as a tense but routine lesson descends into carnage: the boy's father screaming for blood, as the boy is provoked into a frenzied attack on his sparring partner.
Like most of the stories in Shadowboxing, the scene is as vivid and visceral as a punch in the face.
By the end of the book, the boy's father – once so tough and domineering – is a broken man, an invalid in a psychiatric hospital.
The boy has every reason to be estranged from his father. Instead, he visits his father in the hospital and finds the old man in need of a haircut.
He sits his father in a chair beneath a tree in a sunlit courtyard, takes a pair of scissors and clips his hair.
Then his father stands and turns around, "presenting himself formally, in a manner similar to that of a young boy seeking approval from his father."
It is a stunning moment; one of many.
Birch (pictured) is close now to his own father, but for many years their relationship was fraught.
"My father Brian was a violent man," Birch told the Sydney Morning Herald in October 2011. "He didn't leave home but I wish he had. He was a council labourer, taught me to box."
Birch looks like a boxer. Short and solid with a square jaw and a broad, flat nose, his gaze is direct and unflinching.
As a young man, he was always in fights, often in trouble and expelled from two Melbourne High Schools.
He was also a voracious reader of literature, drawn to books like Barry Hines' A Kestrel for a Knave (also known as 'Kes').
Published in 1968, 'Kes' is the story of a sensitive boy named Billy Casper, who finds relief from his traumatic surroundings though his love for a bird – a kestrel, whom Billy names Kes.
"I had read many novels by the time I picked up Kes," Birch once wrote. "[But] no book left the impression on me that Kes did. I was convinced that it had travelled the globe to find me."
Today, Birch – born into a large family of Australian Aboriginal, Irish and West Indian descent – is a celebrated poet, short story writer and novelist.
Earlier this month, he won the Victorian Premier's Literary Award for Indigenous Writing for his latest novel, Ghost River. The man who took to writing late in life has also forged a career as a writing teacher.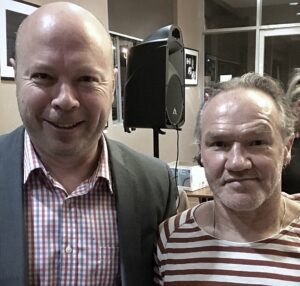 I interviewed Birch a few weeks ago at a writers' festival in Melbourne. As an interviewee, he was open and honest, thoughtful and sincere.
He said the day came when he faced a choice concerning his father: "have nothing to do with him or, if I loved him, find a way to love him."
We talked about Ghost River. I told him that his book restored my faith in fiction: that paradoxically, his fiction seems real to me, connected in a powerful way to life and nature.
I find his writing muscular and earthy, loving and poetic. He doesn't muck around. He doesn't deal in opinions or speak in abstract terms. Tough at times, but tender, he paints pictures I can see and trust.
In Ghost River, one of the characters wakes in the night "to the sound of thunder in the distance, the roar of a changing wind, followed by the steady beat of rain on the roof."
When he writes, I feel Birch leaning forward in an act of generosity to offer his readers – especially young and troubled men – confidence and hope. It is the thing I love most about his work.
In the final pages of Ghost River, an old bloke tells some young blokes a story about a drowning cat. It is a scene of such immense and authentic power, a laconic tale about courage and resilience, "the most important story of all."
Tony Birch was once a kid in boxing gloves up against the odds. Now he's in the fighter's corner, whispering encouragement, urging on the next kid, saying stand tall and stay brave.
Image insert: With Tony Birch, Brimbank Writers and Readers Festival, 2016