The young man in my local coffee shop spoke English with a German accent. So I asked him in German if he was German: "Sind Sie Deutscher?"
He said he was. He said (in German) that his name was Jannis and that he came from a village near Dortmund. I asked what brought him to Melbourne: "Was brachte Sie nach Melbourne?"
He answered in English – "To travel Australia" – and he said each word with reverence and care, like it meant something big.
He was 19 and had been in Australia for seven months, most of it in Melbourne. He was dating a young local girl who lived in a suburb not far from the café.
I assumed he was living with her family. He wasn't. He was sleeping in a van that he shared with a mate from Holland. They slept at night wherever they could park, wherever they thought it safe. I admired their fortitude.
This was a fierce Melbourne winter – cold, wet and windy – and Jannis and his fellow traveller were squeezed at night like two sardines in the back of a freezing van, all in the name of travel and adventure.
The next day, I returned to the café and invited Jannis for a beer. "I've travelled," I said, by way of explanation. "We could swap stories."
That was good enough for Jannis. Later that week he came to my house, in the best shirt he owned, and met my wife and our two cats.
He was quiet, modest and exceptionally polite. I prepared an antipasto platter; he took from the platter only after me. He declined a second beer, but then drank one with gusto when I said that I would have another.
We listened to his plans. He was hoping to drive his van up the east coast of Australia, from Melbourne to Port Douglas, a 3,000 kilometre journey.
Looking at him, across the kitchen table, it seemed hard to imagine that he could make the trip without incident or harm. He seemed so young.
When he left our house and shook my hand, I felt a strange paternal impulse. I cleared the dishes from the kitchen table and muttered something like a prayer: "Good luck, mate, Viel Glück."
He sent me a text three months later. He had made the trip from south to north and was back again: "Hey Paul, guess who just arrived in beautiful Melbourne one hour ago?"
We arranged to meet at a local pub. He was waiting outside when I appeared. He looked taller and stronger; more present, somehow. He shook my hand with a new and confident vigour.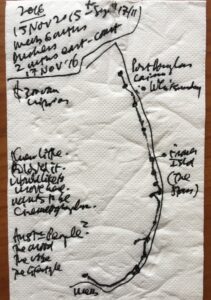 We ordered pints of lager and plates of food. He leaned across the table and told me travel stories, all of them interesting and all of them good. We mapped his journey on the back of a paper napkin.
On Fraser Island, Queensland, he slept on the beach and woke in the night beneath a million stars – the most he had ever seen – a vast swathe of crushed diamonds strewn across the sky.
He sold the van in Cairns for less than it was worth, but for enough to buy a one-way plane ticket back to Melbourne. Soon, he returns to Germany.
Jannis says that one day he would like to live in Australia. Who knows? Perhaps he will. Perhaps he won't. I'm not sure it matters.
I see him now as a citizen of the world: as a young man who went away and put himself to the test through a series of experiences, each of which enlarged him and lent to his perspective something fine and real. Home is within him.
I paid for our food and drinks. I told Jannis that one day, perhaps when he is in his forties, he will meet a young backpacker – a pilgrim setting out – and he'll buy them a beer or offer them a lift.
He said he will. And I believe him. And so it goes.
Pictured: Jannis on Whitehaven Beach, Whitsunday Islands, Queensland, August 2016